This is my recipe for an Asian classic - Mee Goreng. It doesn't take too long to cook. A change from the normal instant noodle yeah?

BTW, good luck for anyone who is having exam at the moment! :P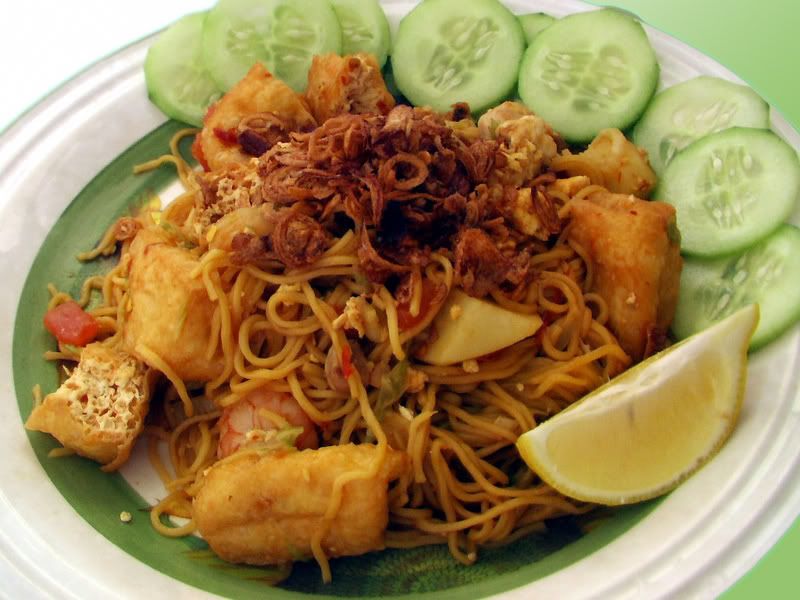 MEE GORENG
Recipe adapted from "Savoring Southeast Asia"
Ingredients
300g Hokkien Noodle or Chinese Egg Noodle
3 tbsp og vegetable oil, or as required
1/2 tsp salt
3 cloves garlic, chopped
60g bonless, skinless chicken breast or thigh, cut into 6mm pieces
2 eggs
125g large shrimps, peeled and deveined
1 cuo (90g) shredded cabbage
3 pieces of deep-fried tofu, each about 4cm square. Cut into 6mm thick. (Available from Asian shops)
1 tablespoon sambal ulek
2 tablespoons tomato sauce (ketchup)
1 tablespoon sweet soya sauce (kecap manis), or to taste
1 tablespoon lightt soya sauce , or to taste
1 potato, boiled or microwaved, peeled, cooled, and cut into 12-mm cubes
125 g bean sprouts
(I omited this)
1 firm tomatoes, cut into 12-mm cubes
2 spring onions, cut into 2.5cm length
1 cumcumber, peeled and thinly sliced
fried shallot (available readily fried at Asian shops)
2 lemons, cut into wedges
Directions
1. Prepare noodle according to package directions, keep warm.
2. Place wok over medium high heat. When the pan is hot, add oil, salt and garlic. Stir-fry for about 1 min, or until fragrant.
3. Add the chicken to the wok, stir-fry until the chicken pieces are firm. about 2 mins.
4. Crack the eggs into the wok. Use the head of the spatula to gently break up the yolk. Do NOT beat! Let the egg fry until set, about 1 min. Then, add the shrimp, stir-fry until the shrimp turned orange-pink, about 2 mins.
5. Raise the heat to high, add cabbage, fried tofu, noodles. Toss gently to mix. Add sambal olek, ketchup & the two soy sauces. Mix to coat evenly. Add tomatoes, potatoes, bean sprouts & spring onions. Stir-fry to mix. Adjust seasoning with sweet and light soy sauce. Transfer the noodle to a platter.
6. Garnish with the cumcuber, fried shallots and lemon wedges. Serve immediately.
Tags:
recipes
Food
Noodle
mee goreng
Asia