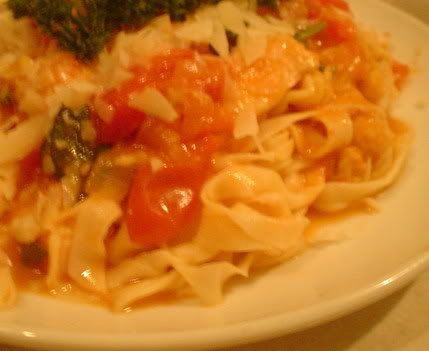 I collected this recipe a long time ago, and couldn't remember the source. You can use this with spaghetti or linguini as well.
Ingredients (s.6)
A generous amount of olive oil

1 medium onion, chopped

3 cloves of garlic, chopped

2 small red chillies

600 gram of marinara mix

Two tins of 440g canned tomatoes

½ cup (125 ml) of water or white wine

½ cup torn fresh basil

2/3-1 tablespoon of sugar (depending on the sweetness of your tomatoes)

Sea salt and pepper, to taste

400 gram of your favorite pasta

A generous amount of freshly grated parmesan cheese, to serve
Direction
1. Heat olive oil in a large sauce pan, then gently fry onion, garlic and chilli for around 8 mins or till the onion is soft.
2. Add in the tomatoes and the wine (or stock). Simmer, partly cover for around 10 mins.
3. Cook the pasta per direction. Fresh pasta only takes around 4 mins to cook. Drain. Toss with olive oil to prevent sticking.
4. Add seafood to the pan, simmer until just cook. Then, add basil leaves, sugar and salt and pepper to taste.
5. Toss the sauce with the cooked pasta. Arrange into serving dish.
6. Sprinkle with a generous amount of freshly grated parmessan cheese. Serve hot.
Tags:
fettuccini
spicy
seafood
pasta
budget
recipe